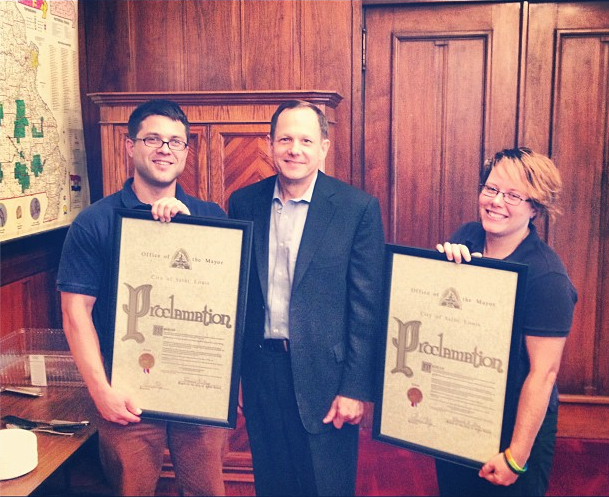 Submitted by Kayla Potter - Year 17 ERT, Year 18 CST
As a second year ACSTL Member, I've had a lot of surprises over the   two years I've been here:  from"I get to learn how to use a chainsaw?" to "ok, serving for 24 hours straight isn't too bad…" One of the best surprises, however, was finding out that our last City-Wide Service Team meeting with Mayor Slay was actually a good-bye celebration for Joe and me. And not only that, but that celebration included a proclamation from the Mayor declaring July 12, 2012 as "Joe Fetter & Kayla Potter Day" and thanking us for our service to the City of St. Louis and the State of Missouri.
It was a wonderful thing to sit there with the Mayor's Office staff that we had come to get to know over the course of our term one last time. The jokes and camaraderie that we've been able to participate in over the year were in full force, and everyone was asking about our plans for the future. I'm glad I got the opportunity to serve with some great folks.
It's been an incredible two years with AmeriCorps St. Louis, and I won't forget it anytime soon. I've grown a lot during my stints on ERT and CST, learned so much about myself and the fantastic people I've served with, and got to do some really neat things.
Plus I got a proclamation from the Mayor of St. Louis. How cool is that?