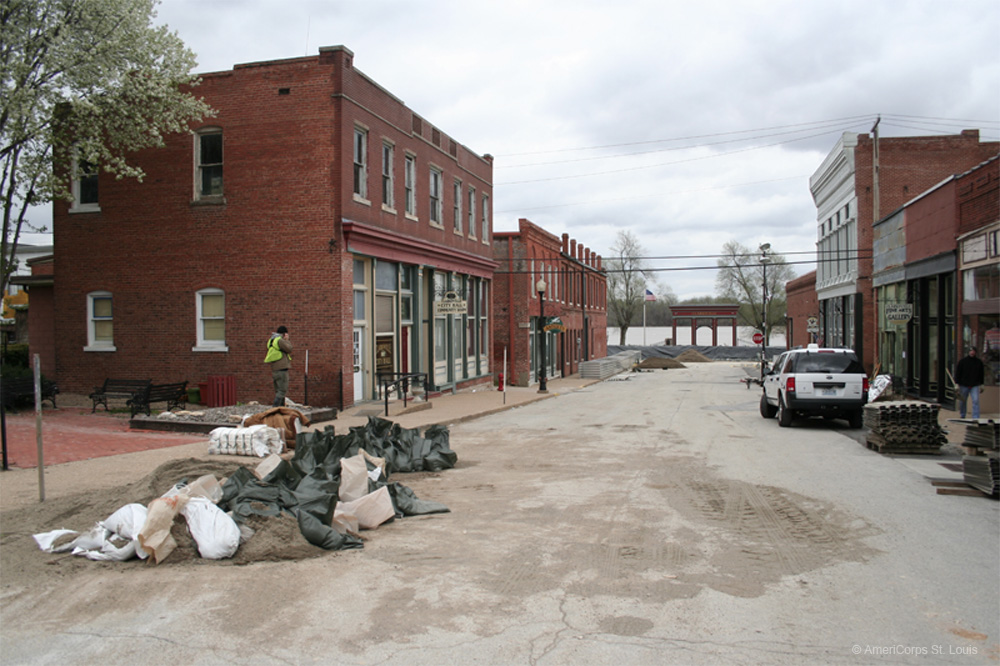 UPDATE 6/1 Our Members are once again on the ground in Clarksville assisting with flood mitigation efforts. Please stay tuned for updates.
During the week of April 14th, 2013 heavy rainfall and melting precipitation threatened many parts of the Country, in particular, the Midwest. As the Mississippi river began to rise the Missouri State Emergency Management Agency (SEMA) called upon AmeriCorps St. Louis (ACSTL) to travel to Clarksville, Missouri to assist in the flood fight.
On Wednesday April 17th, 25 Members of the ACSTL Emergency Response Team deployed to the northeastern Missouri town of Clarksville, whereupon they immediately began constructing floodwalls, sandbagging, and establishing a volunteer reception center (VRC). Since their arrival, ACSTL Members have been serving around the clock through a unified command with City leaders and members of the Missouri National Guard.
Additional partnerships include Convoy of Hope who, with support from the Army Corps of Engineers, delivered 275,000 sandbags and multiple pallets of flood fight plastic; the Red Cross who delivered food prepared by the Southern Baptist Disaster Relief Organization, which was then delivered to flood workers by the local Methodist church; local prison inmates, who have assisted in sandbagging and were a vital resource in combating the flood waters; the local Food Bank, who contributed supplies and bottled water for flood workers; and local farmers and contractors who contributed machinery and man power, which greatly assisted in the construction of the emergency levee system.
To date, the ACSTL Volunteer Reception Center has recorded over 450 registered volunteers.
View pictures here