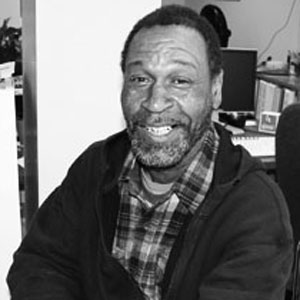 On an unusually warm day in mid-February, I sat down with Timothy Swift, one of our regular shelter guests, to discuss homelessness.
Swift, whose "home" translates to St. Louis streets and abandon buildings, is no stranger to homelessness. Now 53, he took to the streets in 2002 after a battle with drugs, alcohol, and family problems. "Things got misunderstood," he says.
During our very open and honest conversation, Swift revealed his ambitions, his concerns with homelessness, and his desire to overcome the lifestyle he currently lives.
Past Career / Work Experience
As it turns out, Swift went to school to be a salesman, though never worked in the field. Instead, he became a Porter for Purina vacuuming, stripping and shampooing floors. In addition, he once drove a dump truck and even worked for the City as a bus driver for the St. Louis Public Schools System.
Dream Job
A fireman. That's been an ambition since childhood.
Favorite City Spot
Lafayette and Park is a place where Swift can sit without being bothered and let his mind flow. He enjoys time to himself; it allows him to concentrate on what he is going to do to get out of his current situation, and talk with God.
Life on the streets
Normally, Swift gets by through churches. They help with clothing, food, and shelter, but he prefers not to go to their shelters. He doesn't like living in them anymore.
There are a lot of things you can learn from being homeless, he says. The main thing is that you must find resources to get shelter, food and clothing and keep your hygiene together. The rest falls into place, however, there isn't much to do when you're homeless. You sit around doing nothing all day trying to find something to do to stay out of trouble. Police harass the homeless a lot too. They tell you, "You can't be here… you can't be there." They act like you live in a home and there is somewhere you can go. If there were somewhere you could go, you wouldn't be here. "They [police] ain't out chasing criminals, they're chasing the homeless," he says.
Through it all, Swift takes ownership of his mishaps and turns his life over to God. Putting your life in God's hands doesn't necessarily mean going to church. For him, it's about talking to God on your own everyday and letting him guide you.
So where do you sleep?
Mainly, anywhere, he says. In certain situations you end up in a vacant building. The worst is when it's raining. Finding somewhere to cover up for shelter isn't easy. Sometimes the bus stop is your only option and sometimes you fall asleep, but it really doesn't matter if you fall asleep as long as you're dry.  The winters are definitely rough, too. Blankets are essential. 
And is it safe?
It's not safe. Let's just say people will come and try to steal your stuff and even sneak up and inflict violent harm. Most of the people that will harm you aren't even homeless. It's incredibly dangerous living on the streets. People watch where you put your stuff, where you sleep. Luckily, when there's a bunch of people around that's a different story, they won't mess with you. Being around enough people is a safety net.
What should people know about homelessness?
Homelessness is not a choice. "If I choose to be homeless that means I really don't care about myself," Swift says. Homelessness happens, it is something you can't stop. You really don't want to be homeless. It's easy to get there but hard to get out of, and I know nobody really likes being homeless. It's just one place you don't want to be.  Furthermore, not all homeless are pleasant people, especially when they are used to living a certain way and everything is swept from under their feet. It's hard to depend on someone else when you are so used to doing things on your own. It's not until you realize that some people care and want to help you that you start to accept it and shed those attitudes. Furthermore, sometimes people get so depressed about being homeless that they want to kill themselves––that's the honest truth. It's just not easy living on the streets. You don't know where you're going to eat or sleep and there's no money to help.
What do you see as a solution to homelessness?
Through laughter Swift says, "If I could tell you that, I wouldn't be in this situation." Nonetheless, he sees rehab, housing, money management counseling and a job as necessary resources. All things that are not easy for someone to do on their own.
How did you find out about the AmeriCorps St. Louis Shelter?
One day some friends told him about it and ever since, here he is. He won't go anywhere else. The people here are kind. It's the best shelter, so far. You even get cereal, milk, juice, and coffee here.
And what about Winter Outreach?
A couple times, while living in a junkyard, Winter Outreach came by with blankets, hot chocolate and soup. They even offered transportation to shelters, though it was denied.
Plans for the future?
Right now Swift is a day-by-day person. Ultimately, he would like to get on disability (resulting from a debilitating car accident in the late 90's), get himself into a rehab clinic and a housing program, or better yet, his own place.
Unfortunately, work isn't an option right now because of back problems and Swift fears that corrective surgery would leave him in a wheelchair. Plus, it's hard to pay the doctor's bills without money.
Alright, three wishes?
One, be a millionaire­­­–and then help charities you can trust. Two, go to a shelter and drop off clothes, shoes and hygiene products. Three, wish that my friends can do the same.
How can people help? 
Swift suggests figuring out peoples clothing needs, mainly kids, and helping to supply them. More importantly, people can figure out how to get kids off the street. They didn't ask to come into this world, it's not their fault they are on the streets.
Final thoughts?
"Nope," he says, "brain is going dead with age." Continuing on, "It's hard to think clearly when you're living on the streets. Your mind gets warped. You keep thinking about how to get off the streets. It's one thing knowing how to survive, but the question is how to get off the streets."
Learn more about our shelter here 
-Chelsea Bodamer; CST Year 18 & 19