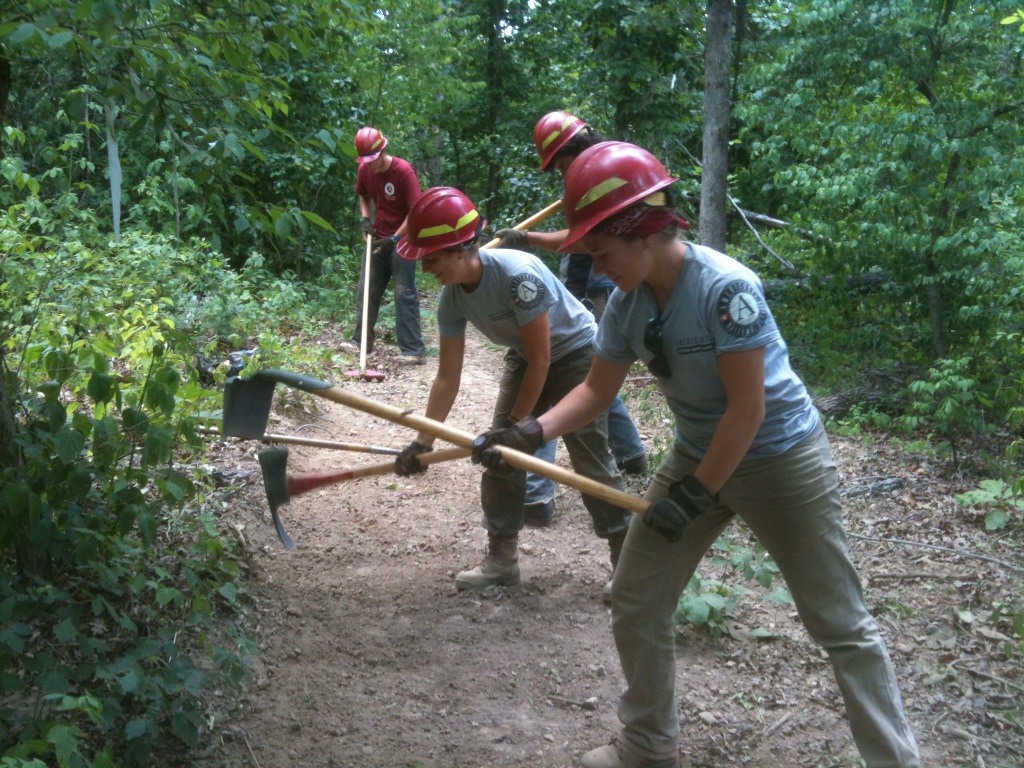 Markham Springs Bike Trail- Written by Sara Levine, ERT Yr 18
We have reached the final stretch of the trail! The part that we are working on is 8-9 miles long. We finished the back half in the 2nd week we were there. We made it past the halfway point on the front section last week. There is still another 12 miles of the trail to complete on the other side of the road, but there is logging going on so we can't work on it until they are finished.
I am anxious to get this section done! This is my 6th consecutive week on the bike trail and it is amazing to see the transformation. Bikers are already using it too! Two bikers stopped by our campsite a couple of weeks ago to tell us they loved the trail. It was such a great feeling to know people are actually excited about our project! It makes those 90 degree days in high humidity worth it.
Even though we didn't finish this week, we were able to build a lot of trail. We parked at a new spot this week so we could hike in form the far end. We hiked in over the trail that still needs to be dug, to the point where we ended the day before. And then we work our way towards our exit. We were able to take 15 minutes off of our hike in time. This week's group has helped build some great tread for this trail. They have worked so hard to get as much done as possible. It was a really inspiring week, watching so many hard workers focus on this project. Even though some of the team members switch out week after week, and they aren't always on this project, they still dedicate so much time and energy to it.
Support Trail Projects in Missouri by Donating to AmeriCorps St. Louis
-Stay Tuned for more Tales from the Trail-